airborne extended is a quartet for contemporary music consisting of flute, recorder/Paetzold, harp and harpsichord, with electronics, objects and performance.

The ensemble was founded in 2013 and its unique instrumental combination offers the possibility of creating a wide range of new sounds and colors that in recent years has inspired several generations of composers from all over the world. Its constantly growing repertoire counts more than 50 premieres – working with both up-and-coming and established composers.

As a selected ensemble for NASOM 2018/19 - New Austrian Sound of Music airborne extended was official Austrian cultural ambassador and performed in international venues and festivals such as Wien Modern, musikprotokoll Graz, Stanislawsky Electrotheatre Moscow, Kalv Festivalen, Poznan Music Spring, Tempo Reale Festival, Vancouver New Music, National Opera Athen and many more.
Besides its concert-activities, airborne extended offers regularly lectures and workshops for composers and instrumentalists and already collaborated with different academic institutions such as Kunstuni Graz, Bruckner University Linz, Tiroler Landeskonservatorium Innsbruck, Anadolu Üniversitesi Eskişehir, Bilkent University Ankara, State Tchaikovsky Conservatory Moscow, Royal Academy Aarhus, Academy of Music and Drama Gothenburg
Airborne extended is supported by the Federal Chancellery of Austria (BKA), Austrian Section of the International Society for Contemporary Music (ISCM) and the Federal Ministry for Europe, Integration and Foreign Affairs (BMEIA).




airborne extended ist ein Ensemble für zeitgenössische Musik.

Es erweitert die Klangräume von Querflöten und Blockflöten mit jenen des Cembalos und der Harfe und kombiniert diese mit Elektronik, Objekten und Performance. Diese einzigartige Instrumentalkombination bietet eine breite Palette neuer Klangspektren und Farben undinspiriert weltweit KomponistInnen wie Publikum gleichermaßen.

Das 2013 gegründete Ensemble sieht sich als Vermittler »starker, unmittelbarer musikalischer Ideen, erweitert oder begrenzt durch ihre vorübergehend absolute Zeitlichkeit«. Durch die intensive Zusammenarbeit mit mit aufstrebenden und etablierten Komponist*innen aus aller Welt hat das experimentierfreudige und mutige Ensemble wichtige Meilensteine im Bereich der zeitgenössischen Kammermusik gelegt. Es präsentiert sein lebendiges, kontrastreiches und ständig wachsendes Repertoire an internationalen Veranstaltungsorten und Festivals, darunter Wien Modern, musikprotokoll Graz Stanislawsky Electrotheatre Moskau, Kalv Festivalen, Posener Musikfrühling, Tempo Reale Festival, Vancouver New Music, Nationaloper Athen und viele mehr.

Neben der künstlerisch-experimentierenden Tätigkeit ist dem Ensemble auch die pädagogisch-vermittelnde Funktion wichtig, und so bietet Airborne Extended regelmäßig Vorträge und Workshops für KomponistInnen und InterpretInnen an. Es arbeitete bereits mit Studierenden der Kunstuniversität Graz, Bruckner Universität Linz, Tiroler Landeskonservatorium, Anadolu Üniversitesi Eskişehir, Bilkent University Ankara, Tschaikowsky-Konservatorium Moskau, Royal Academy Aarhus, Academy of Music and Drama Göteborg. Das Andocken des Ensembles an die verschiedenen akademischen Institutionen verbindet einen lebendigen Austausch der Praxis mit der Lehre, und fördert das Keimen neuer kreativer Ideen.

Die vielfältigen Aktivitäten des Ensembles werden und wurden unterstützt durch:

NASOM 2018/19, IGNM 2017/2018, BKA/BMKÖS.
Elena Gabbrielli, Flutes
born in Arezzo / IT, studied flute and philosophy in Venice. Further studies with Chiara Tonelli, Patrick Gallois and Pier Narciso Masi. Specialization in contemporary music in the Master's program PPCM at the University of Music in Graz under the guidance of Klangforum Wien. Nowadays Elena regularly plays in various chamber music projects and ensembles for new music across Europe. Performances at numerous festivals, including at the Salzburger Festspiele, Wien Modern, Biennale Musica Venezia, Ravenna Festival, Festival dei due Mondi Spoleto, Graz musikprotokoll, Kalv Festivalen, GAIDA Festival Vilnius, Archipel Genève. Radio recordings for RAI-RADIO3, Ö1, RTS-Espace 2, BR Klassik.
www.elenagabbrielli.com
Elena Gabbrielli, Flöten
geboren in Arezzo/IT, studierte Flöte und Philosophie in Venedig. Weiterführende Studien bei Chiara Tonelli, Patrick Gallois und Pier Narciso Masi. Spezialisierung auf Neue Musik im Masterstudium Performance Practice an der Musikuniversität Graz beim Klangforum Wien. Elena spielt regelmäßig europaweit in verschiedenen Kammermusikprojekten und Ensembles für Neue Musik. Auftritte bei zahlreichen Festivals, u.a. bei Salzburger Festspielen, Wien Modern, Biennale Musica Venezia, Ravenna Festival, Festival dei due Mondi Spoleto, Graz musikprotokoll, Kalv Festivalen, GAIDA Festival Vilnius, Archipel Genève. Radioaufnahmen bei RAI-RADIO3, Ö1, RTS-Espace 2, BR Klassik.



Sonja Leipold, Harpsichord/Keyboard

born in Villach/AT, studied flute & piano at the Mozarteum Salzburg, and harpsichord & basso continuo at the University of Music Vienna. Focusing on early and contemporary music, she regularly performs as a soloist, basso continuo-player and with her own ensembles at renowned concert festivals all over Europe and Asia. She was awarded by the Austrian ministry of culture, was prize-winner at the international harpsichord competitions Bologna 2011, Fidelio 2012, Annelie de Man 2012 (den Bosch/contemporary harpsichord). Sonja Leipold works as an accompanist and chamber music teacher at ITAM Linz (with Emma Kirkby), Austra Baroque Academy, ISA Vienna, and Theater an der Wien, participated in film- and CD-productions and also appears with orchestras and Ensembles like dolce risonanza, capella Leopoldina, Vienna Symphony Orchestra, Wiener Kammerorchester. In 2017 Sonja Leipold is also member of the executive committee of ISCM Austria and since 2015 she teaches at the University of Music and Performing Arts Vienna.
www.sonjaleipold.net
Sonja Leipold, Cembalo/Keyboard

widmet sich als Cembalistin vor allem der zeitgenössischen, barocken und selten gehörten Musik. Seit ihrer Studienzeit (Querflöte & Klavier am Mozarteum, Cembalo an der Musikuniversität Wien) gastiert sie als gefragte continuo-Spielerin sowie mit eigenen kammermusikalischen Projekten regelmäßig in Europa und Asien. Ihre vielseitige künstlerische Tätigkeit fand Niederschlag in CD- und Filmproduktionen und wurde mit diversen Preisen gewürdigt (u.a. internationaler Cembalowettbewerb Bologna 2011, Fideliowettbewerb Wien 2012, Annelie de Man-Wettbewerb 2012 Niederlande, Stipendium des Kulturministeriums & Landesmusikstipendium 2013, österreichische Kulturbotschafterin für zeitgenössische Musik 2016/17). Sonja Leipold unterrichtet seit 2015 an der Musikuniversität Wien und arbeitet als Dozentin & Korrepetitorin bei Masterclasses wie Bruckneruniversität Linz (mit Emma Kirkby), Sommerakademie der Musikuniversität Wien und am Theater an der Wien (unter Nikolaus Harnoncourt).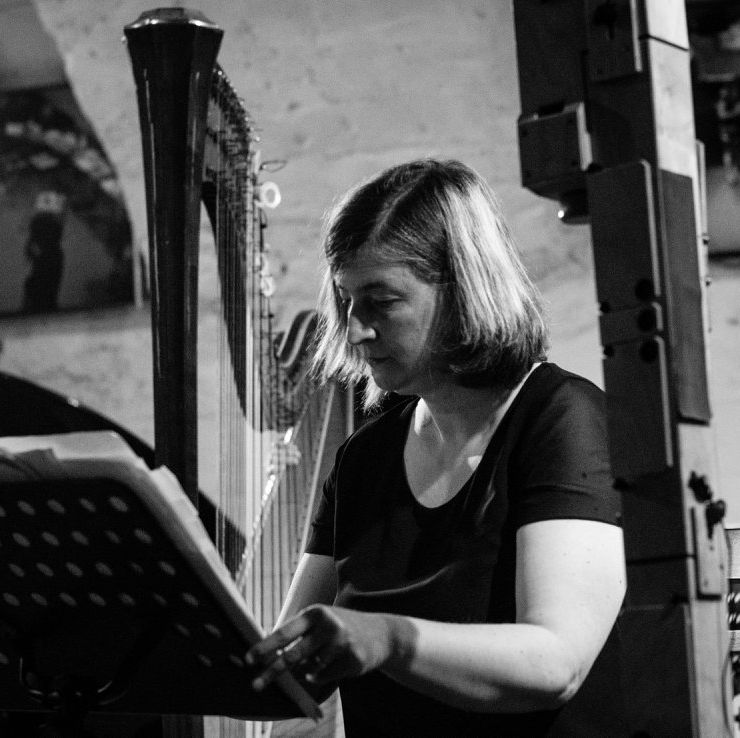 Caroline Mayrhofer, Recorders/Paetzold

born in Innsbruck, studied recorder at Bruckner-Konservatorium Linz and at Musikuniversität Wien. She graduated as a Master of Arts with distinction and was awarded scholarships at Amherst-Early-Music-Festival/USA and the Stichting Musici van Morgen/NL. At a post-graduate at the Conservatorium Amsterdam she got a diploma cum laude. She has been teaching at the conservatorio di Bolzano. Caroline was repeatedly pricewinner at the competition "Jugend musiziert", 2012 she was price-winner at the international competition for contemporary recorder music in Darmstadt. As a soloist and in Ensembles she performs throughout Europe, America, Asia. She is part of many CD- and Radioproductions (RecRec, EMI digital, RAI, ORF, radio espace 2, Kairos).
www.caroline-mayrhofer.net
Caroline Mayrhofer, Blockflöten/Paetzold

geboren in Innsbruck, Blockflötenstudium am Bruckner-Konservatorium Linz, Studium Blockflöte und Violoncello an der Musikuniversität Wien. Magistra artium Konzertfach Blockflöte mit einstimmiger Auszeichnung, Stipendiatin beim Amherst-Early-Music-Festival, USA und bei der Stichting Musici van Morgen/NL, Post-graduate am Conservatorium Amsterdam, Diplom cum laude. Lehrauftrag am Konservatorium Bozen. Wiederholt Preisträgerin beim Bundeswettbewerb "Jugend musiziert", 2012 Preisträgerin beim Internat. Wettbewerb für zeitgen. Blockflötenmusik in Darmstadt/D. Zahlreiche Konzerte mit Neuer und Alter Musik als Solistin und in Ensembles in ganz Europa, Amerika, Asien. Mitwirkung bei CD- und Rundfunkproduktionen (RecRec, EMI digital, RAI, ORF, Kairos, radio espace 2).
Tina Žerdin, Harp

is a Slovenian harpist who studied at University of music and performing arts in Vienna and graduated with honors. She is an active international soloist and chamber musician and a member and guest of many Austrian orchestras (Vienna chamber orchestra, Wiener Akademie Orchester, Österreich-Ungarische Haydn Philharmonie, Synchron Stage Orchestra, guest at Vienna State Opera and Volksoper Wien). As a performer of contemporary music beside quartett
airborne extended
she works with ensembles such as Reconsil, Phace and Kontrapunkte. She is a known interpret of Slovenian contemporary music and an author of many radio- and CD-recordings.
www.tinazerdin.com
Tina Žerdin, Harfe
Slowenische Harfenistin Tina Žerdin
absolvierte ihr Konzertfach-Harfenstudium an der Universität f. Musik u. darst. Kunst in Wien mit ausgzeichnetem Erfolg. Zurzeit ist sie erste Harfenistin in Orchestern Wiener Akademie, Wiener Kammerorchester, Österreich-Ungarische Haydn Philharmonie und Synchron Stage Orchestra sowie häufiger Gast an der Wiener Staatsoper, Volksoper und in anderen Wiener Orchestern. Als Solistin ist sie vor allem in ihrer Heimat Slowenien, aber auch in vielen anderen Staaten in Europa und Asien tätig. Als Interpretin neuer Musik arbeitet sie neben dem Quartett airborne extended auch mit Ensembles Reconsil, Phace und Kontrapunkte zusammen. Sie ist bedeutende Interpretin der slowenischen zeitgenösischen Musik und Authorin vielen Rundfunk- und CD-Aufnahmen.